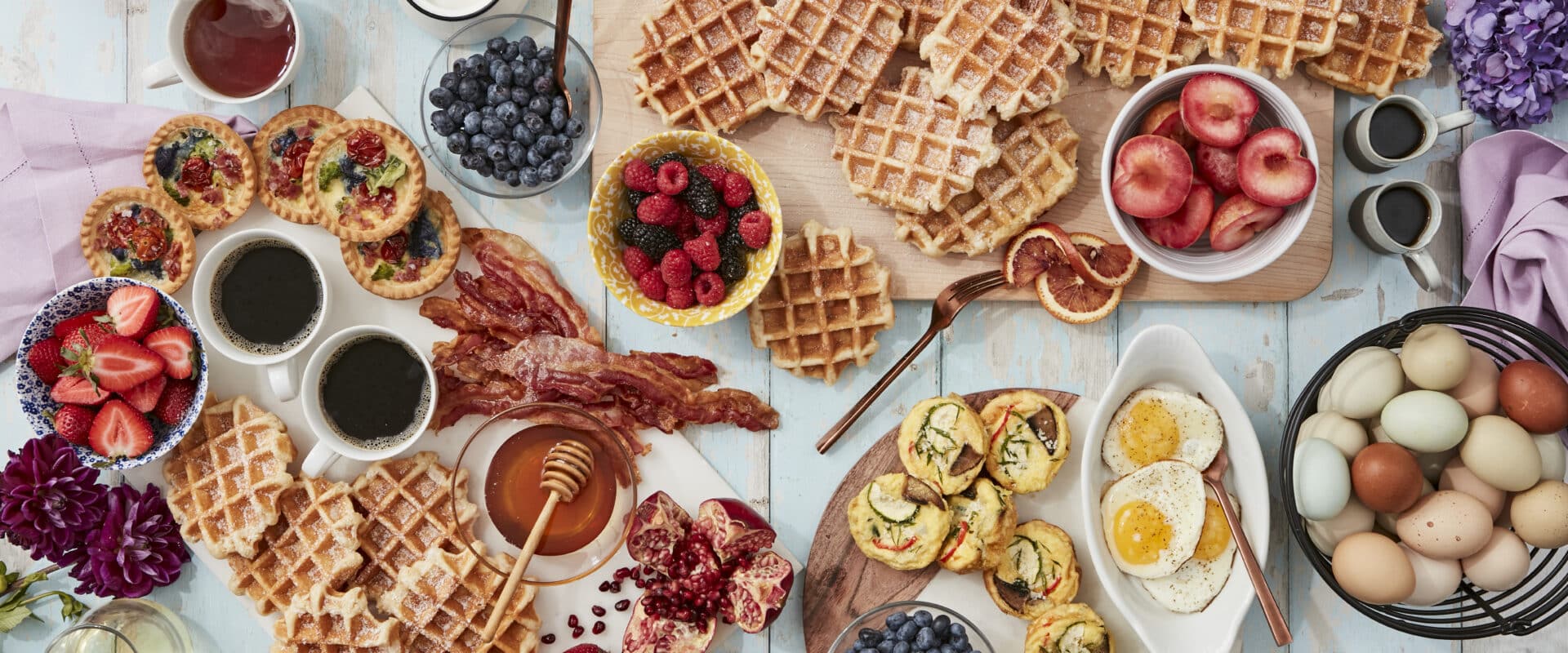 Your Morning, Your Breakfast Catering NYC

Full-Service Breakfast & Brunch Catering
Deborah Miller Catering & Events will fuel your morning with our tasty breakfast catering in NYC! From sweet to savory, our breakfast menus provide a wide expanse of options utilizing only the freshest local ingredients that are sure to wow guests, satisfy clients and impress event attendees. Our attention to detail is bar none as we focus on providing you with the very best breakfast and brunch catering New York City has to offer. Let us make your morning delicious!
Breakfast by Deborah Miller
Learn how we deliver the top breakfast catering experience in New York City.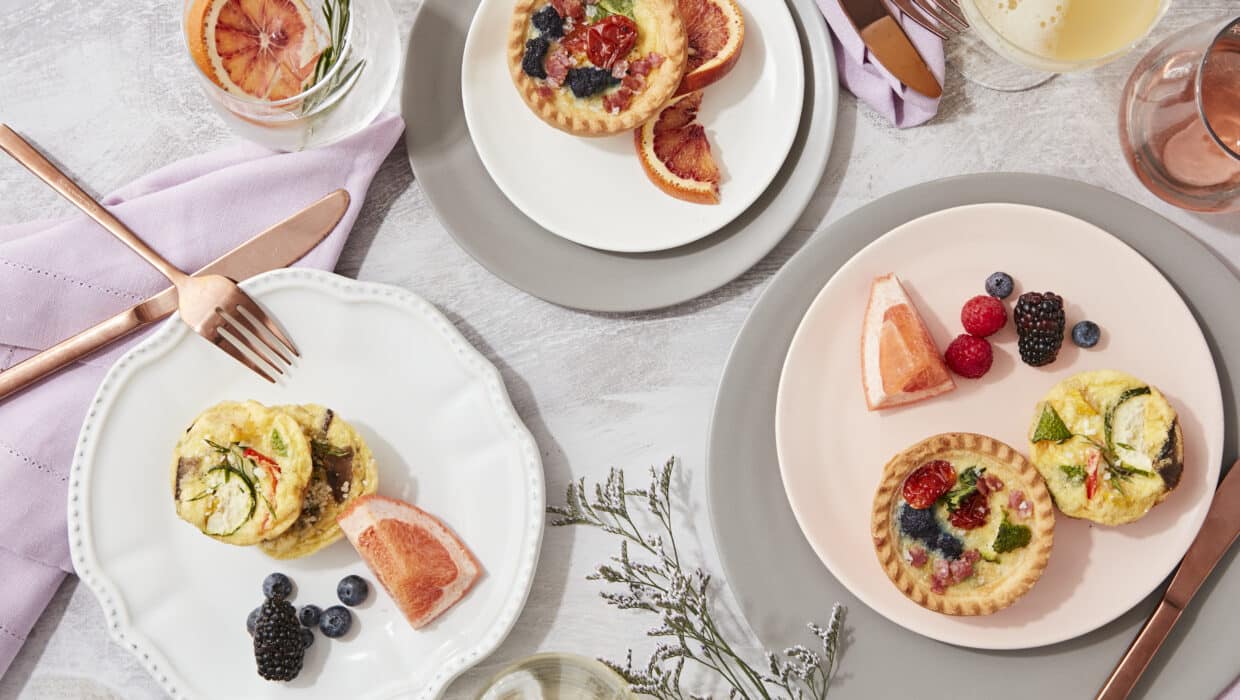 Philosophy
Start Your Day with a Delicious Meal
Breakfast is largely regarded as the most important meal of the day. The science behind this states that the first meal of the day is when you literally break your overnight fasting period (break-fast). A thoughtfully planned breakfast by Deborah Miller Catering & Events, whether at room temperature made for easy grab-and-go or served warm and designed to eat sitting down, will replenish your glucose, boost your energy levels, and increase your alertness. A well-balanced and nutrient-rich breakfast is essential for good health. The team at Deborah Miller Catering & Events knows that skipping breakfast can throw off your body's rhythm and even lead to weight gain. Morning meals are largely credited with helping to make your muscles and brain work their best. A breakfast by Deborah Miller Catering & Events is a great way to start your day!
Breakfast Menu Highlights
Deborah Miller Catering & Events is the top local choice for breakfast and brunch catering in NYC.
Continental Breakfast
Fresh Seasonal Fruit Salad

Seasonal fruit, sourced locally whenever possible, dressed with lime-agave drizzle

Assorted Muffins

Flavors such as: lemon poppyseed, blueberry, banana, chocolate chip; all freshly baked from scratch every morning by local bakeries

Assorted Scones

Flavors such as: sun-dried tomato, parmesan, currant; all freshly baked from scratch every morning by local bakeries

NYC Coffee Cake

Made fresh daily

Overnight Oats

Coconut milk, dried cranberries, sweetened with agave

Greek Yogurt Parfait

Greek yogurt, local honey, house-baked signature granola, seasonal fruit garnish
Hot Breakfast
Buttermilk Pancakes

Whipped butter, local maple syrup

Individual Frittatas

Inquire for flavors! Suggested pairings from our chef: wild mushrooms with onions, bell peppers, feta cheese. Bacon, cheddar, kale. Egg whites with spinach and local ricotta cheese

Breakfast Sides

Applewood smoked locally sourced bacon, turkey bacon, pork breakfast sausage, country-style hash browns, rosemary-roasted fingerling potatoes, pastrami and sweet potato hash
Plated Breakfast
Belgian Waffles

Chocolate syrup, house-made seasonal compote, whipped cream

French Toast

Brioche soaked in local eggs and cream, fried in butter, served with caramelized banana, mixed berries, maple syrup, whipped cream

Avocado Toast

Multigrain bread, hard boiled eggs, pico de gallo

Smoked Salmon

Dilled cream cheese, sliced cucumber, capers, pickled onion, on local freshly baked bagels

Spanish Tortilla

Eggs, onions, potatoes, baked with herbs, served with salsa rachera and a seasonal salad
"I know how hard it is to find a great caterer and once you do, it takes the ease and stress out of knowing if you'll get your order in time and if it will be good."
The Best Brunch & Breakfast Catering New York Has to Offer
We will feed your morning with tasty brunch items—savory and sweet—to get you moving in the right direction. Focus on your morning, and we will focus on making sure you have the food and beverages necessary to wake you up and energize both your body and mind.
Brunch

Brunch is often seen as a combination of breakfast and lunch, with added alcoholic beverages: champagne, mimosas, white wine, etc. Though brunch originated in England, New Yorkers have popularized brunch far beyond anyone's expectations. Deborah Miller Catering & Events has perfected both breakfast and lunch, so you can bet that we throw one heck of a great brunch!

Healthy Breakfast

Start your day off right and fuel your body with a nutrient-dense meal. Our healthy breakfast options are packed with tons of great flavors. Deborah Miller Catering & Events' experienced culinary team knows that you can have lots of nutrition without having to sacrifice any of the deliciousness we all crave and love. Protein, fiber, whole grains, vitamins and healthy fats are all part of Deborah Miller Catering & Events' healthy breakfast.

Early Morning Breakfast

The early bird catches the worm! Whether you have a boss who loves early morning meetings and insists on getting the day started before the average human is fully awake or you need to gather your friends for a special occasion that happens to start earlier than most of your guests imagined, do not stress. Deborah Miller Catering & Events is here to make sure your early breakfast, coffee and tea needs and morning food and beverage desires are all fulfilled.
"Deborah Miller is the best in New York City."
Wedding Questions—Answered