Fun Office Lunch Ideas
Let's face it – the standard boxed sandwich and salad office catering options can get boring after a while. Why not spice things up with fun office lunch ideas that are unique and refreshing? Whether your office is tired of the same old office lunch catering or you have an important mid-day meeting with a client you want to impress, Deborah Miller Catering in New York City can help. Take a look at our catering lunch ideas for the office and contact us to plan your office lunch catering.
Lunch Catering Idea #1: Office Catering Taco Bar
When you want to please absolutely everyone in the office, it's hard to go wrong with tacos. One of our favorite catering lunch ideas for the office is the make your own taco bar. With a make your own taco bar, your coworkers can customize their tacos to their liking and they can be made with almost any dietary restrictions in mind.
Deborah Miller Catering can help you create the perfect office lunch catering taco bar. Choose from two proteins like Pulled Pork and Blackened Salmon and add on fun toppings like smashed avocado, jalapenos, and pico de gallo. Serve alongside nachos with guacamole and salsa for the perfect Mexican fiesta! You can even consider getting celebratory with margarita mocktails (or real cocktails – hello new favorite boss!) for a fun midday treat.
Lunch Catering Idea #2: Serve Up International Cuisine
Taking your colleagues and clients around the world with an international cuisine tour is a fun and unexpected office catering idea! You can customize your menu to focus on a specific area of the world or give your guests a variety of options from Thailand, the Mediterranean, Mexico, the southern United States, and India. The possibilities are endless!
Having different food stations is key to serving up International cuisine at your next office party. Create a Far East station that draws in flavors of Asia with mini veggie spring rolls, fried dumplings, and steamed edamame. For those who want comfort food, create a southern comforts station with cheeseburger and BBQ pork sliders, chili and a custom mashed potato bar. Add in a fiesta station with mini tacos, burritos and a make your own nacho bar. Round out your International cuisine with a taste of Italy including farfalle, classic Caprese skewers, chicken marsala, and focaccia bread.
These different food stations are perfect for larger corporate gatherings and office lunches as it gives options for everyone. Self-serve stations are also perfect for mid-day lunches where you want people to socialize and mix with lots of different individuals. Have office locations or clients across the globe? How about featuring street food from each country where you have a presence. It's a fun a delicious way to showcase your business accomplishments – no boring powerpoint and packet required!
Lunch Catering Idea #3: Classic Sandwich Board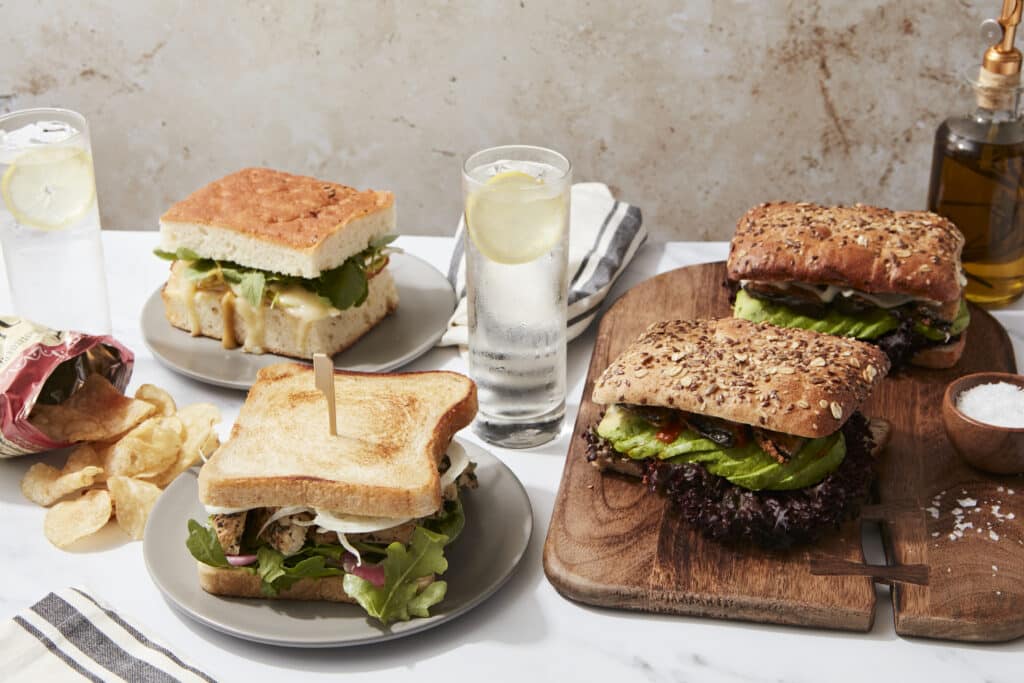 When you're looking to make your entire office happy, a classic sandwich and salad combo almost always does the trick. And while sandwiches might be the standard office lunch, there's nothing standard about our sandwich catering menu. On the menu, you'll find new takes on old favorites, and options for every diet and palate. Our Crispy Eggplant Sandwich—with Oaxaca cheese, avocado, red leaf lettuce, pickled jalapeño—is perfect for your vegetarian coworkers. But for a spin on a sandwich, try our Thai Chicken Wrap—with lemongrass grilled chicken, Thai cabbage slaw, sweet lime dressing, cucumber, mint, spinach wrap—to keep curious taste buds satisfied.
Lunch Catering Idea #4: It's Greek to Me
What's not to like about delicately thin shavings of lamb, chicken, or beef served on pita? A spread of traditional Greek food is a great alternative to the default lunch sandwiches and side salads.
You can customize Deborah Miller Catering's Greek Spread with options like chicken shawarma, lamb & beef gyros, and hand-rolled falafel. Toppings like sliced tomatoes, cucumber, and tahini make it easy for your coworkers to customize their Greek pitas. Serve up your gyros and Greek spread with hummus and vegetables and a large Greek salad to round out your lunch. For dessert, consider baklava, a rich dessert pastry with filo filled with chopped nuts, for a delicious after lunch treat.
Lunch Catering Idea #5: Big City BBQ Office Catering
There are lots of ways to spice up office lunch catering with BBQ inspired food! Bring the backyard BBQ to the office with options like BBQ brisket, herb-rubbed rotisserie chicken, corn on the cob and coleslaw. Serve alongside mouthwatering potato salad and corn bread for a fun office lunch idea. Some other great sides to include in your BBQ office lunch catering are roasted brussel sprouts, mac & cheese, and collard greens. BBQ can get a little messy, but it's nothing that a few hand wipes and napkins can't fix.
We love serving office lunch catering BBQ on a hot summer day in NYC. To stick with the BBQ theme, decorate your serving area with red and white plaid tablecloths and serve with a cold glass of lemonade.
Lunch Catering Idea #6: A Tour Around Little Italy
With Italian food specialists like eggplant parmesan and chicken marsala, you really can't go wrong. Take your colleagues on a tour around Italy with specialty pastas like penne with roasted tomatoes, tortellini with nut-free pesto and grilled vegetables, penne a la vodka. We also love chicken alfredo and baked ziti, which are incredibly popular crowd pleasers.
Lunch Catering Idea #7: Finger Food Catering Lunch Ideas for the Office
If you are planning an office lunch where you want every to mingle and socialize, having a finger food lunch is a great idea. There are a lot of different finger foods that colleagues can grab and go, which make it perfect for a meeting or social hour. From sliders to spring rolls, tacos, and mini lobster rolls, Deborah Miller Catering has an expansive finger food lunch catering menu. Whether you want to stick to a special theme, like Mediterranean eats or southern comfort food, we can tailor a special menu that meets your vision – all in fun, bite-sized servings.
Lunch Catering Idea #8: An Upscale Lunch Sure to Impress
Do you have a client you really want to impress? Instead of opting for a typical lunch buffet, create a completely custom office catering menu with white-glove service.
Deborah Miller Catering in NYC will listen to your catering lunch ideas for the office and develop a custom menu that's sure to wow your clients. We offer sit-down office lunch catering options like pepper-crusted flank steak, grilled salmon, and grilled shrimp. Pair with one of our popular side dishes such as garlic mashed potatoes, freshly grilled seasonal vegetables, quinoa salad, and fusilli pasta with pesto. We can accommodate any allergies and dietary restrictions with our vegan, vegetarian, and gluten-free office lunch catering options.
Contact Deborah Miller Catering for Unique Catering Fun Office Lunch Ideas
Think outside of the box when it comes to planning your next office lunch catering. Deborah Miller Catering specializes in creating unique catering menus that meet your needs and exceed your expectations. Whether you are planning a more casual office lunch in New York City or are planning a large-scale company wide event, we will provide delicious event lunch ideas with a personalized touch. We can walk you through the process of planning a unique event with office lunch ideas that impresses colleagues and clients.
To get started planning your office catering, get in touch with the team at Deborah Miller Catering in New York City. We look forward to hearing your catering lunch ideas for the office!