Originally published by The New York Times
By Julia Rothman and Shaina Feinberg
Last year, most company holiday parties took place virtually. This year, with vaccinations more widely available and remote work shifting into hybrid work, companies are taking a chance on the end-of-year romp. We spoke with Deborah Miller, 60, and Lauren McGeough, 48, co-owners of Deborah Miller Catering, about holiday parties 2021-style.
Lauren McGeough:
"A lot of people are using holiday parties as the pre-welcome to get people excited to come back into the office. They're saying, 'You're coming back in January, let's make it really exciting, let's make this over the top.' They're using the holiday party as a kickoff.

I think they really want to encourage people to think that returning to the office is a celebration of sorts. They're having oyster shuckers walking around, big fondue stations, smoking cocktails – things that are a little more theatrical. They're bringing in games and roving tables."
Deborah Miller:
"The bigness and the over-the-topness – the more food, more stations – it's new. The parties are geared more towards the younger employees. Trying to get them to come back."
LM:
"It's the first time that companies are asking, 'What are other companies doing?' They're asking for reassurance. They're asking what the protocol is across the industry in terms of hosting holiday parties."
DM:
"In the corporate world, people are having parties in their offices. I guess they feel safer there."
LM:
"Depending on the size of their company, a 200-person company is considering doing two separate events for 100 people and 100 people over two nights."
DM:
"People don't know whether they want buffets or everything to be prepackaged. So we offer both."
LM:
"Also new this year: We can't get help. Staffing up is a significant problem. Pre-COVID, we were staffed with actors and writers and all sorts of creative people, and a lot of them seem to have left the city. It's not the same pool of part-time freelance help out there that we used to use to staff our events.

We're getting a lot of inquiries at the last minute. We've never historically had people calling the week before Thanksgiving to book for the first week of December. In the last few weeks, heads of companies are saying, 'Let's go for it.' The last-minute aspect of it is incredibly new."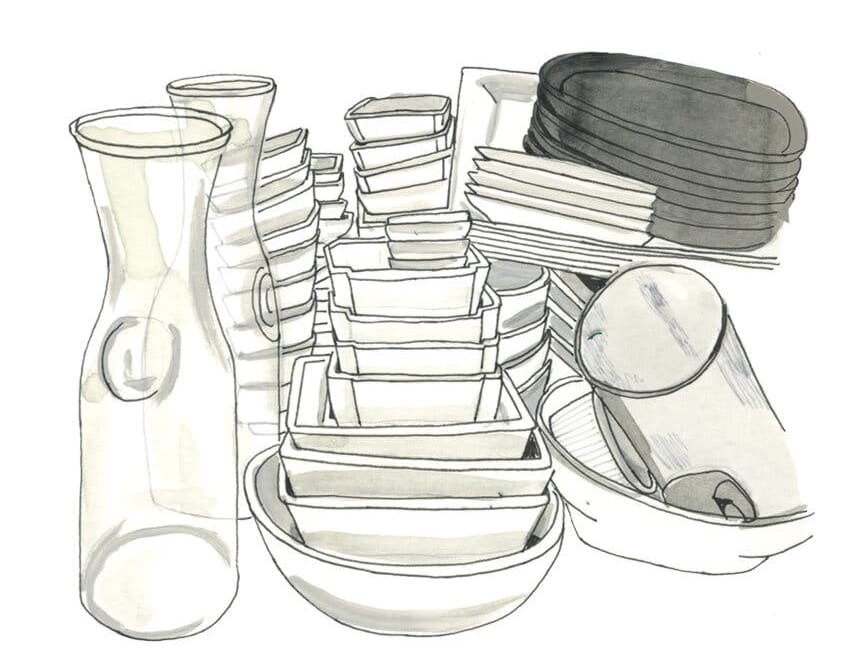 DM:
"What a difference a year makes. We had no incoming calls. I couldn't see the future. And now I can see a future.

We're like everyone else, we're going to plan our own company holiday party very last minute We always take it offsite."
LM:
"Nobody in the service industry wants to be cooking for themselves."
DM:
"Lauren loves karaoke, so we do karaoke a lot."
Julia Rothman is an illustrator. Shaina Feinberg is a writer and filmmaker. Both live in Brooklyn.
A version of this article appears in print on Nov. 28, 2021, Section BU, Page 5 of the New York edition.