The spread of the novel coronavirus in New York and throughout the United States changed our world of catering and events as we knew it. Actually, "changed our world" is an understatement. It impacted the hospitality industry like no one could have imagined. Events with large groups? That was finished. Decadent buffet spreads for corporate meetings? No way. Social distancing and contactless everything has become the new normal, which are concepts that are the antithesis of our services for the past 20+ years.
There is a quote coined by Albert Einstein which states "the measure of intelligence is the ability to change," and it has never rung more true than today. The DMC team knew that in order to survive these tumultuous times, there would have to be some drastic changes made and new lessons to be learned in order to survive. The first started with Cater Because We Care, a donation initiative we launched in early April in response to the COVID-19 outbreak in NYC. Hospital workers and first responders were overwhelmed with infected coronavirus patients and many were working double shifts to handle the volume that was coming their way. These healthcare heroes were also seeing so much loss of life around them, and had no mental capacity to worry about where their next meal was coming from. We created this initiative to get healthy, wholesome, and individually-packaged meals to these first responders in a quick and safe way, and donations poured in from all corners.
NYC Covid Safe Food Deliveries
Meals were prepared on a five-day rotation in our kitchen in Lower Manhattan. They consist of one protein, one side, and either a fruit salad cup or dessert bar served in individual takeout containers to provide a complete and nutritious meal to those receiving them. Deliveries were made daily by the DMC team throughout the city based on hospital locations and workers' corresponding shifts.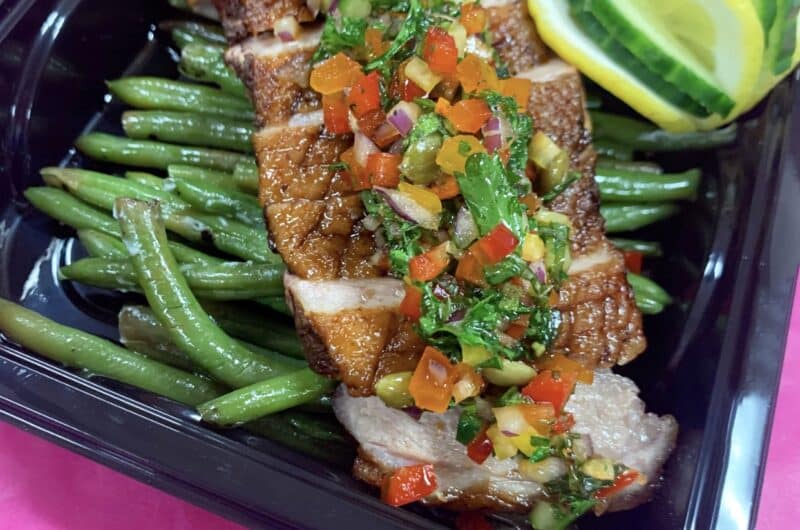 Once we fine-tuned the hospital meals and how to present and label them in the best way, we began to think about what comes next. The DMC team took the same concept for their hospital meals and thought about what their clients would want as they returned to the office. "We wanted to take it up a notch from the usual sandwich box," Deborah Miller says. "People might be ordering catering differently, but they still want delicious food that looks good and feels upscale." With that idea in mind, the team came up with menus for breakfast, lunch/dinner, and afternoon snacks, served in individual bento boxes or clear plastic containers. Smoked salmon croissant sandwiches for breakfast, delicious proteins and sides for lunch, and an antipasti snack takes conventional boxed catering and totally re-energizes the concept! There are vegetarian/vegan/gluten-free versions of all meals as well to ensure anyone with dietary preferences still has options.
NYC Boxed Lunch Catering
The next point we wanted to tackle was making sure we had the right packaging. Being eco-friendly is still a global priority, and with so much extra product needed for boxed lunch catering and contactless catering now, we wanted to ensure we were still cognizant of the environment while adjusting to this new normal! We sampled various products that were compostable and biodegradable and our food would look the most presentable in. The end result consisted of several different types of packaging, some made from fiber, some from eco-friendly plastic, which are sturdy and shows off our food in the best way.
Another aspect the team had to consider was the pricing of these new grab-and-go individual meals. "We know times are tough financially right now, and we wanted to make our offering affordable for individuals and companies placing orders," says Lauren McGeough, VP. "Adapting to the current economic landscape is so important to staying afloat, and we want our clients to know that we are mindful of this fact as we charge forward."
Even with these three main factors – menu, packaging, and price – in place for our new post-covid catering offering, there were still additional things to consider to truly bring the idea full circle. "We will be asking clients if they'd like pre-wrapped utensils and a hand sanitizing gel packet delivered with their meals," McGeough states. "Again, we don't want to be wasteful, and some companies have these things in their office already, so we will be sure to ask first before sending them. However, we think this will be one less thing for clients ordering catering for the first time in months to worry about as they adjust back to the office." We also want to offer the idea of a "bento box cart," where a server can be onsite pushing a cart full of individual boxed meals in eco-friendly packaging, and employees can grab a box just a few feet away from their desk instead of having to walk to a common area, where other staff members might be and overcrowding might be taking place.
Finally, the only way to be contactless is to truly execute contactless drop off catering. We are so used to setting up beautiful presentations for meetings or events prior to their start, but things need to be different for now, and we understand that. Our delivery team can simply drop off all grab-and-go boxed meals in the lobby or on the floor of a client's office, and will not stay to interact with the recipient. This way there is safety practiced throughout the process!
Find Out More About Our NYC Contactless Catering
We are learning each day as we power through this new normal and continue to cater to the needs of our clients. We have best practices and safety guidelines, and make sure to visit our delivery menu to see our current offerings. We will be updating these pages constantly as new developments come to light, so stay tuned and check back to see how our future is unfolding!