NYC is one of the best places to say I do! There are venues to suit every couple, every type of ceremony, and any number of guests. That being said, wedding venue shopping is an exciting task with plenty to see. In order to ease the process, Deborah Miller Catering & Events has collected the 16 best wedding venues in NYC for you below.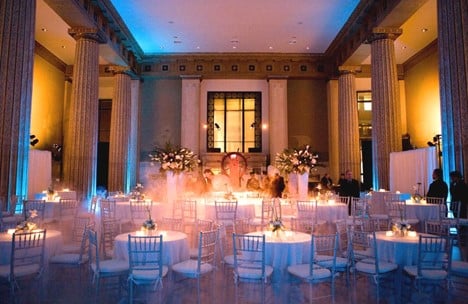 Location: Manhattan
Capacity: 360
The Léman Ballroom is a timelessly elegant event space featuring classic architecture with modern flourishes. The building has preserved its historic charms from its opening in 1928 but maintains a modern air. It serves as a wonderful memorial to New York's Gilded Age, and a perfect venue to add grandeur and elegance to your wedding day. The space features cathedral-height ceilings, bronze-capped marble mosaic columns, and a wrap-around mariner's mural. All wonderful backdrops to your I do's. The neighborhood is also one of the oldest in New York, so you're surrounded by landmarks and historical sites, again a wonderful locale to get married in. Léman Ballroom's timeless elegance and vintage architecture make it one of the best wedding venues in NYC, especially for large-format weddings.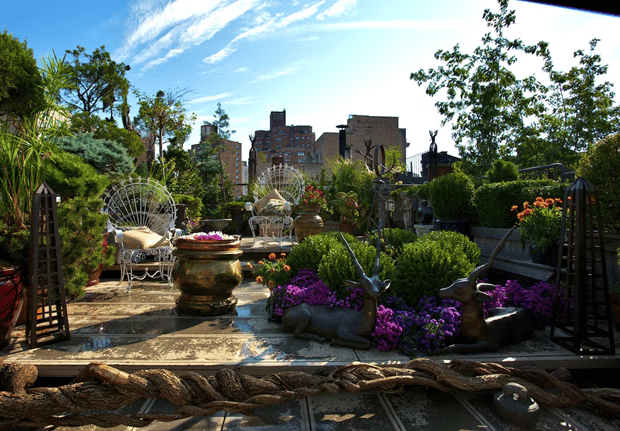 Location: Manhattan
Capacity: 140
632 Hudson is a private townhome nestled between the West Village and the Meat Packing District, with 9,000 square feet for intimate, sophisticated weddings in the heart of New York. 632 Hudson is truly positioned as a private home available for events. Artfully decorated with antiques and artifacts from around the world, it is the perfect setting for a chic, boho wedding influenced by the art and culture of the West Village. The venue also boasts different spaces and a rooftop garden allowing couples to move throughout the space and create distinct events in different rooms. The vintage speakeasy in the basement is a unique treat for couples, harkening back to a classic New York speakeasy with all of the bells and whistles of the modern age. 632 Hudson's mixture of intimate townhome and modern New York makes it one of the best wedding venues in NYC.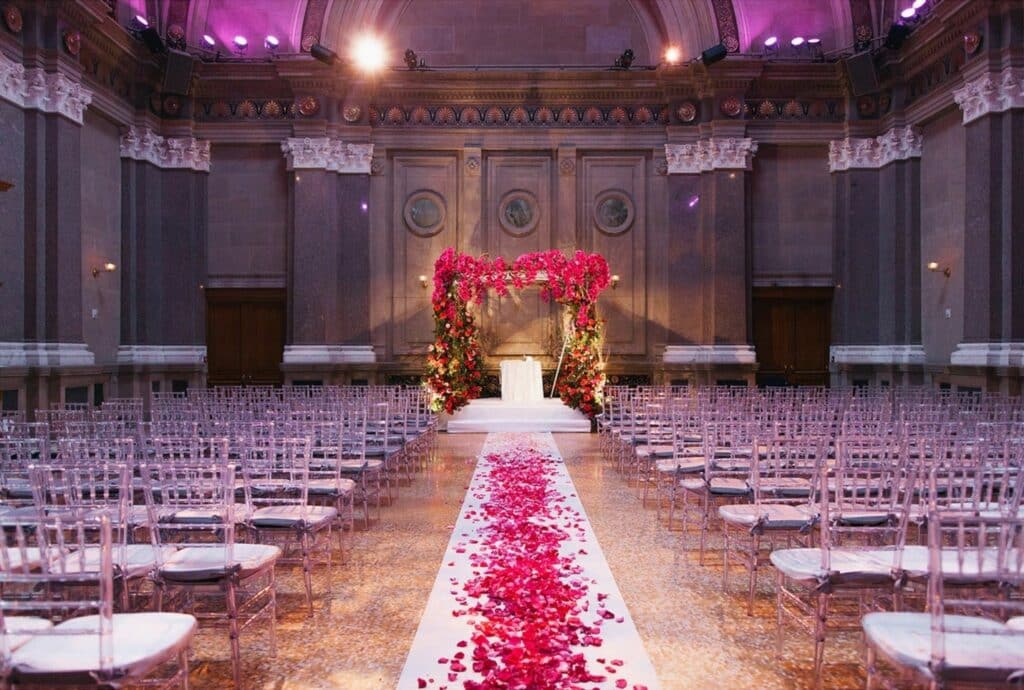 Location: Brooklyn
Capacity: 450
The Weylin is the restored Williamsburgh Savings Bank, built in 1875. It sports a spectacular frescoed dome, intricate mosaics, wooden carvings, and décor form its construction. The Weylin has recently become a cultural hub in Brooklyn, and thus perfectly encapsulates the surrounding culture within its walls. It thus is the perfect venue for a wedding reflecting all that Brooklyn has to offer. Art, culture, and history abound within the Weylin. There are also separate spaces to create any type of wedding you'd like within the Weylin. Be it a grandiose 300-person wedding or an intimate gathering of loved ones imbued with Brooklyn charm, the Weylin has it all. For its amazing historical architecture and centering of Brooklyn culture, the Weylin is one of the best wedding venues in NYC.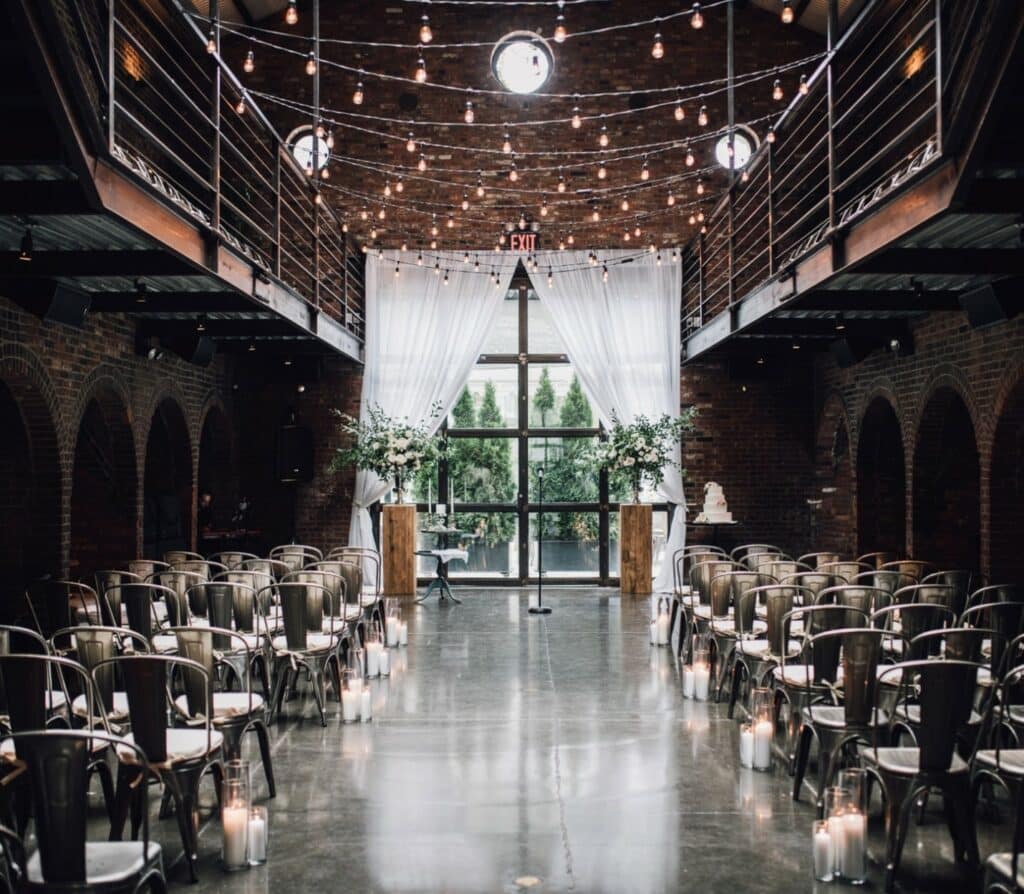 Location: Queens
Capacity: 165
The Foundry is another historical building in New York perfectly restored to serve as a venue for your wedding. Here, the restoration was done to showcase the industrial character of the building and its stunning proportions. The Foundry has plenty of raw space as well as a lush outdoor courtyard, a rooftop terrace with views of the Manhattan skyline, and an indoor greenhouse. The mixture of the industrial building with lush nature is a perfect union of New York's past with its modern, green future. The Foundry is a raw canvas for couples to unleash their vision on, anything can be achieved in the space with the grandeur of the building and all of the greenery throughout. It is the perfect place to create a floral, boho wedding close in the city and that makes it one of the best wedding venues in NYC.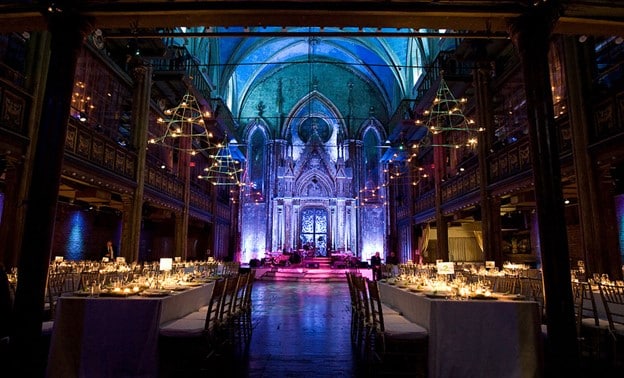 Location: Manhattan
Capacity: 260
The Angel Orensanz Foundation was established in 1992 as an artistic and cultural resource but it was actually built as a synagogue in 1849. It is the oldest Reformed Synagogue in the United States and an amazing venue for weddings. The grandeur and location of the building make it a perfect venue for New York weddings. Not to mention that it has been a cultural epicenter for writers, thinkers, leaders, and the surrounding community for 20 years. All of that artistry is imbued in the walls of the space, creating a completely unique and completely New York wedding venue. The traditional architecture and story behind the Angel Orensanz Foundation make it one of the best wedding venues in NYC especially for traditional weddings.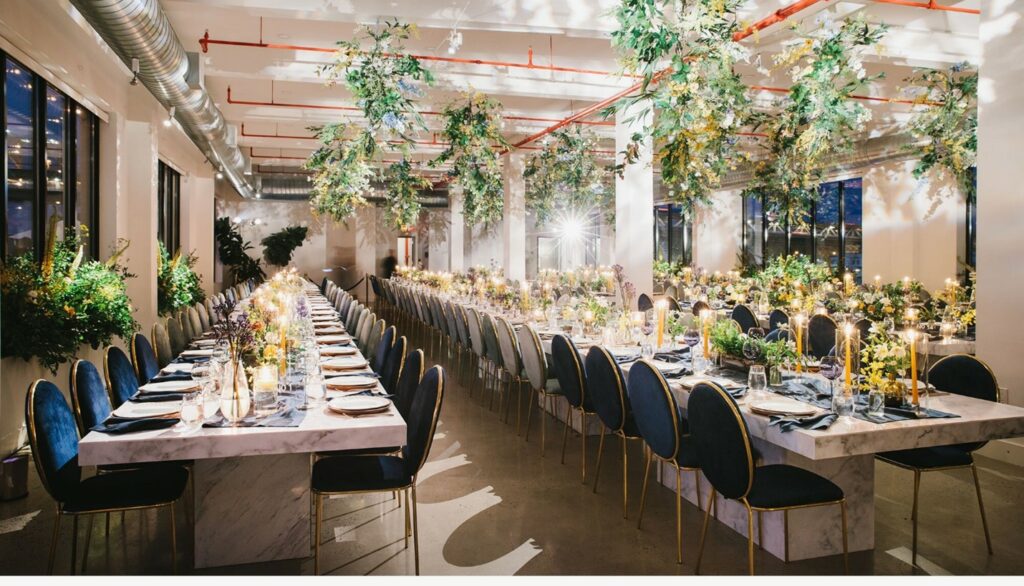 Location: Queens
Capacity: 250
The Bordone is an elegant event space in Queens with a main space, outdoor terrace, and a penthouse terrace all available to host a wondrous wedding. The views from the Bordone are unbeatable. Situated perfectly on the edge of Long Island City, not far from the Queensboro Bridge the city becomes a glittering guest at your wedding. As outdoor weddings and rooftop events become more and more the rage, the Bordone perfectly meets the demand. This venue allows for a true celebration of New York, allowing the skyline of Manhattan to join in on the fun of your wedding, and with the Queensboro Bridge so close your wedding will also have a clear placement in the landscape of the city. The Bordone is one of the best wedding venues in NYC because of its spectacular placement and celebration of the city.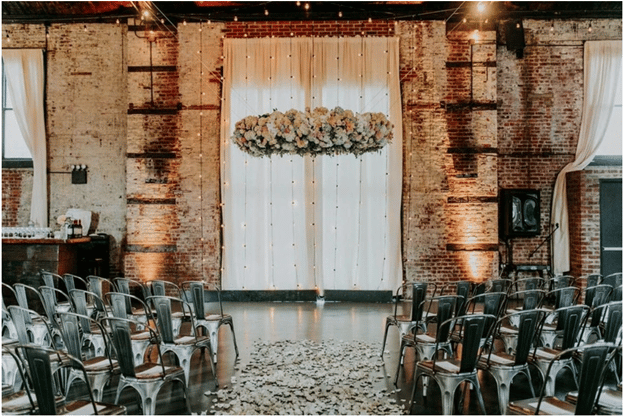 Location: Brooklyn
Capacity: 160
The Green Building, similar to other venues on this list, was originally constructed as a brass foundry in 1889. It has since been restored into an elegant mixed-use event venue with more than 6,000 square feet of combined indoor and outdoor space. Renovations highlight the building's industrial past; the venue's original exposed brick walls, natural light, and open-beamed ceiling make a unique setting in Brooklyn. The space also boasts custom mobile bars and a marble bar top. The intimate staging and industrial touches add a unique quality to the Green Building and give it its Brooklyn charm. Altogether, the Green Building is one of the best wedding venues in NYC.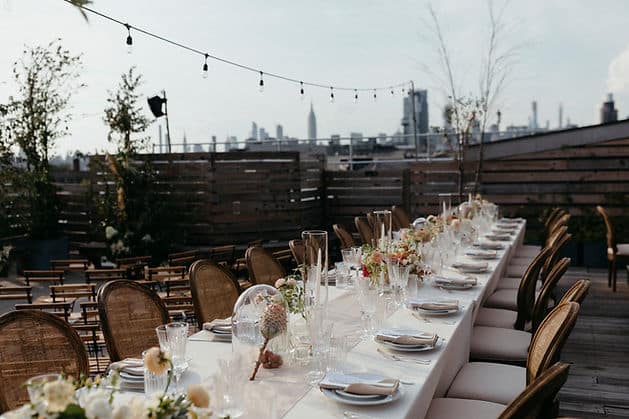 Location: Brooklyn
Capacity: 200
Dobbin St. is an event venue centrally located in Williamsburg, steps away from picturesque McCarren Park. The venue combines 8,900 sq of indoor and outdoor spaces. It is a transformed Brooklyn factory that exudes a minimalist and luxury feel. The space allows for flow and movement between the ceremony and reception, allowing you to use the same space for your entire special day. A gorgeous outdoor space for ceremonies and a main hall full of grandeur allow for plenty of guests and plenty of celebration in Dobbin St. It is the perfect space for a wedding imbued with the spirit of Brooklyn. All of this and more makes Dobbin St. one of the best wedding venues in NYC.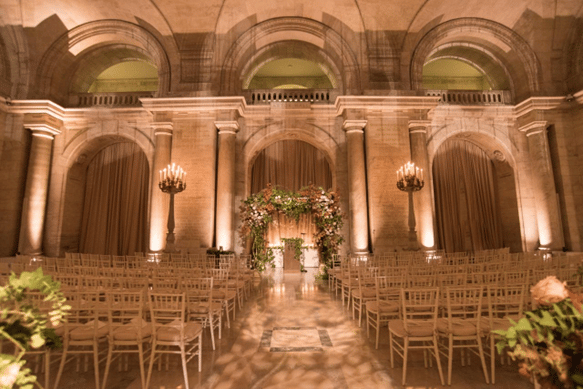 Location: Manhattan
Capacity: 250
The New York Public Library is as classic New York as you can get. It is a quintessential part of New York culture and an iconic backdrop to any evening, especially a New York wedding. There are the famous stairs that will serve as the location for all of your wedding party photos, and then the multiple event spaces within the venue for your guests to flow between. The optionality within the landmark allows for couples to craft the exact level of intimacy they want on their wedding day. Couples can even use multiple rooms and have the temperament of each room be different, like a DJ in one room and quiet cocktails in another. The other benefit of the New York Public Library is that you could not come across a more New York venue to get married. The city will play a role in your special day when you book here, and that's one of the reasons why the New York Public Library is one of the best wedding venues in NYC.
Location: Brooklyn
Capacity: 400
99 Scott is a wonderful canvas for your wedding. The clean and free-flowing main hall and outdoor space are the perfect background for your wedding vision. This venue emphasizes clean lines, lush greenery, and a more rustic feel. This space is wonderful for florally focused weddings and outdoor ceremonies with indoor receptions. This space features a full kitchen so your style of service can be anything you can imagine. It also has a private bridal suite, indoor and outdoor bars, as well as elevator access for your vendors. 99 Scott sets an emphasis on natural weddings, but the space can be as built out as you desire. You can rig from the ceiling, be it greenery, florals, or any other pieces of décor. You can even create an intimate space by using candlelight throughout the space. One of the reasons 99 Scott is among the best wedding venues in NYC is that it is a perfect canvas to build out a couple's vision.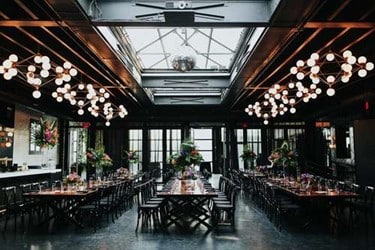 Location: Brooklyn
Capacity: 160
501 Union is a classic Brooklyn venue perfect for weddings. The building dates back to 1916 and once served as a classic car restoration shop. It was transformed into an event venue in 2013 and now provides a unique backdrop for Brooklyn's most stylish weddings. There's also three separate spaces hosted within this one venue. Couples can host a sun-dappled ceremony in the covered atrium, a black-tie cocktail party outside, or a family-style seated dinner with friends and family gathered around 501 Union's custom-built tables, or an intimate Sunday afternoon brunch. Do a little, or a lot. 501 Union is transformable, existing as is, or curated to fit your wedding's aesthetic. The classic New York charm of 501 Union paired with its transformative abilities makes it one of the best wedding venues in NYC.
​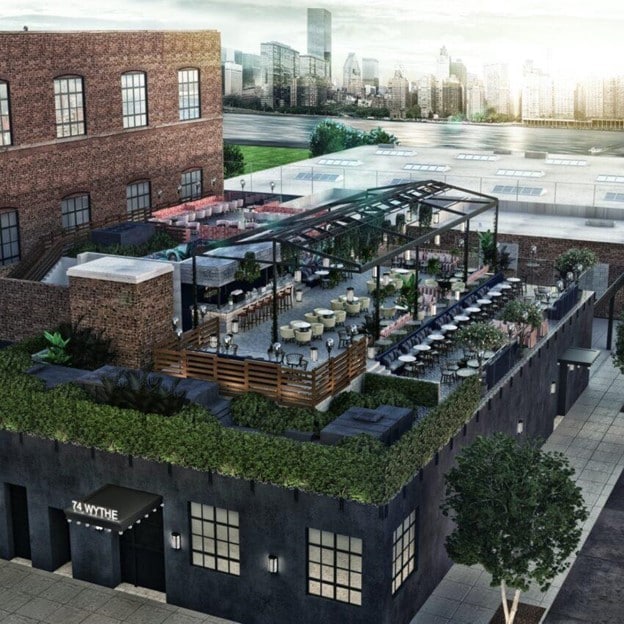 Location: Brooklyn
Capacity: 325
74 Wythe is a multi-space venue that allows for excellent flow and shifting aesthetics at your wedding. As you continue to climb the levels in 74 Wythe you gain greater and greater viewpoints of Williamsburg and the gorgeous aesthetics of the space. 74 Wythe boasts a full kitchen on the main level and then multiple bars throughout. Not to mention a glass covered rooftop space so that no matter the weather on your special day you can celebrate in a gorgeous rooftop space. The multiple spaces within 74 Wythe also allow couples to configure different flows for their wedding day. You can spread your ceremony, reception, cocktail hour, and even bridal prep suite throughout different spaces in the venue. 74 Wythe's gorgeous city views also create an amazing backdrop for all of your wedding photographs. The indoor-outdoor space allows 74 Wythe to be its own built-in rain plan, without losing any charm or fun. 74 Wythe's prime location on the Williamsburg waterfront allows for gorgeous sweeping views and backdrops that will function as their own décor around your elegant event. 74 Wythe is one of the best wedding venues in NYC because of its multi-functionality, prime location, and gorgeous views.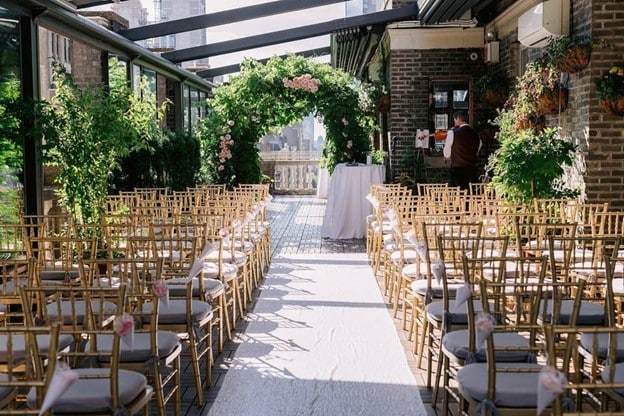 Location: Manhattan
Capacity: 160
Midtown Loft & Terrace is an upscale, elegant wedding venue located in a Chelsea high-rise. It boasts an indoor space and terrace that can be covered if need be, allowing for weatherproof plans in both spaces. The space also has a fully equipped kitchen for any style of service that you'd like. There is also a bridal suite, and the venue has a partnership that can provide hair and makeup services upon request. The amenities and aesthetic of Midtown Loft & Terrace make it a particularly strong choice for NYC weddings. It allows for any form of service, plenty of flexibility around décor, and the optionality around indoor and outdoor that most couples now desire. It is the perfect venue for a sophisticated New York wedding. The New York skyline will add so much to all of your wedding photos and be a breathtaking backdrop to your décor. For couples looking to add a bit of the city to their wedding, Midtown Loft & Terrace is also perfectly situated in Chelsea, so that you are at city center when you say I do. For New York couples, it is so important to pay dues to the city that brought them together, and Midtown Loft & Terrace is a wonderful place to do so.
Location: Manhattan
Capacity: 120
620 Loft & Garden is a picturesque wedding venue directly overlooking St. Patrick's Cathedral in Midtown East. It has such a unique value in its setting and gorgeous, manicured garden. 620 Loft & Garden has a reflective pool, fountain, year-round tented area, and a gorgeously maintained garden. There is such a benefit in having your ceremony overlooking one of the most famous cathedrals in New York City. There is certainly so much to be said about a classic New York wedding with St. Patrick's as your backdrop. There is also the added elegance and stylistic choices with a fountain and reflective pool to use as inspiration. There is no limit to the lush florals you can use to accentuate your wedding day at 620. 620 Loft & Garden also has a wonderful, lofted area bathed in natural sunlight so couples looking for an indoor and outdoor experience can make the most of it here. Being able to host a wedding on a garden rooftop amongst the high-rises is such a celebration of New York and is one of the reasons 620 Loft & Garden is one of the best wedding venues in NYC.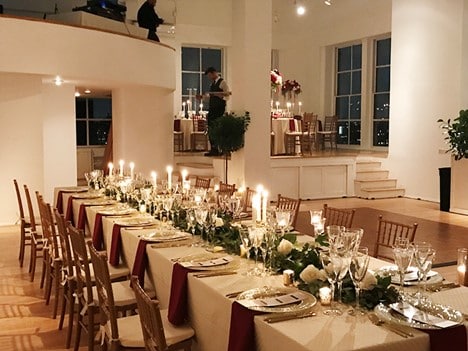 Location: Manhattan
Capacity: 100
Ramscale is a repurposed penthouse that is now the perfect space for an intimate wedding on the west side of New York. The space is completely unique, with all rooms available for use including a private bridal suite, rooms set off from the reception, and an outdoor rooftop area that can be used for the ceremony. Ramscale also boasts views of the Hudson from its rooftop balcony, and gorgeous city views from the floor to ceiling windows throughout the space. What is unique and outstanding about Ramscale is the architecture of the space and the flow of events there. As the space used to be a penthouse apartment, it has been repurposed in incredibly unique ways and allows for amazing customization and décor. There are different ways to enter every room, ways to play around with high and low spaces, and balconies looking onto different rooms. This is a rare find and adds a unique charm to the space that you can't find anywhere else. There are so many ways to use the spaces within Ramscale. It allows couples to create a truly unique wedding and that is why it's one of the best wedding venues in NYC.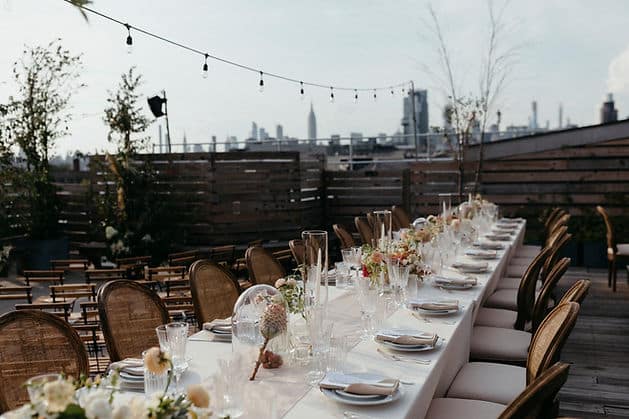 Location: Brooklyn
Capacity: 250
26 Bridge is a gorgeous, renovated metal factory in Brooklyn that is the perfect space for a beautiful New York wedding. 26 Bridge has maintained its vintage furnishings, with its original brick walls, towering wooden doors, and high ceilings, it perfectly blends industrial with elegant. The space is wide open and airy, creating a fantasy space for couples. The sleek industrialism of 26 Bridge blends perfectly with lush greenery and florals befitting a Brooklyn wedding. The venue also has a skylight to bring in even more brightness and help blend its industrial past with its elegant present. Even though this space is very large, it can be decorated to create an intimate warm experience for couples. Its maintained furnishings, and celebration of Brooklyn history makes it one of the best weddings venues in NYC.
The above venues are the list of what Deborah Miller Catering & Events finds to be the best wedding venues in NYC. Each has its own unique charm that can't be found anywhere else in the world. We have catered at every location and are able to serve you the wedding catering you've dreamed of, wherever you decide. Keep in mind, Deborah Miller Catering & Events is your New York wedding catering services destination. Regarded as a top wedding caterer in NYC, we understand all things weddings. There is no better place to celebrate love than in New York and with the above recommendations we know you'll be able to find a venue that you love as much as this city!